Flitzer Sport Flying Association
---
Projects/Pictures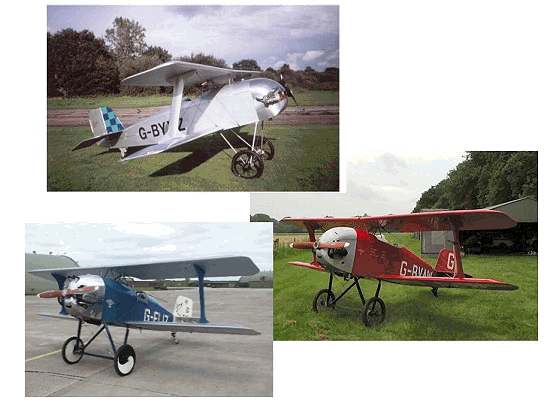 Video:
If you're having trouble viewing the videos, try right-clicking on the link and select "save target as".
Once the video is saved, open the file to play.
SABC Seprentine Fly-In Video(Mark Crawford's Flitzer shown at the end)
Off-Topic Video:
Nice Aeroplanes (2.77MB .wmv) Active ll in flight as well as a rotary-powered Nieuport 28
Nice Aeroplanes 2 (2.97MB .wmv) More Active footage as well as a DH88 fly-by and Gladiator display
Off-Topic Images:
Vintage Aeroplanes (5.49MB .pps) Powerpoint slide show of vintage and replica aircraft
Chris Bobka's Pictures Curtiss Jenny Photo Album - John Slemp's gallery of photos of Brian Karli's Curtiss Jenny project.
Windows Wallpaper:
Downloadable Flitzer Images for Windows Wallpaper
Note: Many of the images throughout this site may be displayed full size by double-clicking. They can then be set as your Windows Wallpaper by right-clicking and selecting the appropriate option.
FSV Pictures:
Flitzer Pics On the Web:
---
Flitzer Builders
Builder

Location

Variant

Engine

Status/
Registration

Updated

Brian Anderson

New
Zealand

Z-21A
(Round Tail)

Aerovee 80hp or
Great Plains

Construction
ZK-FTZ

May 1, 2010

David Ashley

Elan Valley,
Wales

Z-21A

'Belgian' UL260i
95hp

Construction

May 15, 2010

Peter Bairstow

Australia

Z-21M
Meteor Speedwing

Radial (tbd)

Construction

March 26, 2010

Mark Barlow


"Marcus Stefan Prinz
von Barlau-Wittgenstein"

Seabrook, TX USA


Vale Aeroplane Works of Texas

Stormcock

Verner 5si radial

Construction

June 4, 2016

Chris Bobka

U.S.A.

Z-3
Falke

tbd

Construction

November 21, 2013

Larry Butt

Forest,Ontario
Canada

Z-21A

VW 2180cc

Construction

January 9, 2012

Chips Carpenter


"von Schmirk"

Grimoldby,Lincolnshire
U.K.

Z-21B

Aerovee 80hp

Complete
First flight:
October 4, 2009
G-ERTI

February 17, 2010

Janez Cestnik

Trbovlje, Slovenia

Z-21A

TBD

Construction

November 30, 2008

Colin Cheese

Repton, Derbyshire
U.K.

Z-21A

TBD

Construction

February 14, 2008

Mike Clark

U.K.

Z-21A


(Former Mike Wood Ship)

VW

Complete
G-FLIZ

March 14, 2010

Mark Crawford

Perth,
Australia

Z-21A

Jabiru

Complete
First flight:
May 5, 2007
VH-SFF

External Site

Jim Cresswell

U.K.

Z-21

VW

Complete
First flight:
April 17, 2006
G-ERDA

May 20, 2007

Trevor Crossman

Norfolk
U.K.

Z-21

Jabiru 80hp

Construction

October 7, 2007

Jim Danner

Tacoma, Washington
U.S.A.

Z-3 Falke

TBD

Construction

May 19, 2007

Jim Danner

Tacoma, Washington
U.S.A.

Z-21

TBD

Construction
On Hold

May 18, 2007

Daniel Ducrout

France

F.2 Tiger

Walter LOM

Construction

September 5, 2007

Ronny Gosselin

Montreal, Quebec
Canada

Z-4S
Sperber
(Sparrowhawk)

TBD

Construction

February 26, 2011

Jim Hail

Crawford, TX
U.S.A.

Z-21A


(Former Walter Mitchell project)

TBD

Construction

June 15, 2009

Vic Long

U.K.

Z-1S
Stummelflitzer

'Belgian' UL260i
95hp (provisional)

Construction

February 16, 2008

Vic Long
Jeremy Moore

U.K.

SK26

Rotec
Radial

Construction

External Site

Garrett Meriwether


"Gerhardt von Frohlicheswetter"

Las Vegas
Nevada
U.S.A.

F.5 Jung Tiger

Revmaster R-2300

Construction

December 31, 2011

Walter Mitchell


"von Schneer"

N. Mexico
U.S.A.

Z-21B

TBD

Sold to Jim Hail

January 17, 2009

John Morris


"Baron Ivan Morrisov"

East Hampton
Connecticut
U.S.A.

Z-21

Aerovee 80hp

Construction

March 18, 2011

Robert Nilsson


"von Troll"

Laurel, Maryland
U.S.A.

Goblin
(Models)

N/A

Complete

December 04, 2004

Robert Nilsson


"von Troll"

Laurel, Maryland
U.S.A.

Goblin
(Full Scale)

TBD

Construction

October 13, 2009

Emmanuel Parrein

France

Z-1
Type S

Praga D
75hp

Construction
F-PECN

August 9, 2009

Dudley Pattison


"Duds"

U.K.

Z-1
Type R

Rotec
R-2800
Radial

Complete
First flight:
December 10, 2012
G-ZIRA

February 19, 2011

Wayne Pearce

Sydney
New South Wales
Australia

Z-3

TBD

Construction

May 28, 2006

Roy Pullen

Middlesex, U.K.

Z-21

TBD

Construction

July 15, 2008

Simon Randle

Leeds, Yorkshire
U.K.

Z-2 Schwalbe

Rotec
R-2800
Radial

Construction

September 25, 2009

Herve Ribet

France

Z-1
Type R

Rotec
R-2800
Radial

Complete
First flight:
September 29, 2012
F-PCLO

February 11, 2012

Patrick Rogers

Sacramento, CA
U.S.A.

Z-21A


(Former Jeff Beach Project)

Great Plains
1834cc VW

Construction

June 5, 2007

Max Saunders

New
Zealand

Z-21A

Great Plains
2.2 VW

Flying

External Site

Ben Slusher

U.S.A.

Z-3 Falke

Rotec or
Continental

Planning

September 24, 2006

Ian Staines

U.K.

Z-21


(Former Iain Govan project)

TBD

Construction

February 13, 2008

Roel Stausebach


"Willie Von Spatzendreck"

South Africa

Z-3 Falke
(Roundtail)

Rotec
R-2800
Radial

Construction

External Site

Rodney Taylor




Australia

Z-21M Meteor

1835cc VW

Construction

August 4, 2009

John Theron


"Hartmuth Baldamus"

U.K.

Z-3 Falke

Corvair

Construction

August 19, 2005

Adam Wankowski

Suffolk,
U.K.

Z-21

Jabiru

Construction
G-ENIA

October 26, 2009

Rupert Wasey


"Prinz Rupert of Thuringia"

U.K.

Z-21
(Round Tail)

Aerovee

Complete
First flight:
February 7, 2005
G-ERIW

February 6, 2008

Wilfred Wesemann/
Sascha Heuser

Broistedt,
Germany

Z-1S
Stummelflitzer

Goebler-Hirth

Construction

March 3, 2009

Terry White

U.K.

Z-21A


(Former Tony Morris Ship)

VW

Complete
G-BYYZ

April 18, 2009

Lynn Williams


"Lt. Ernst von Kessler"

U.K.

Z-1
(prototype)

VW

Complete
G-BVAW

June 18, 2005

Keith Wigglesworth


"Van Weegels-Wert"

U.K.

Z-21

TBD

Construction

June 11, 2005